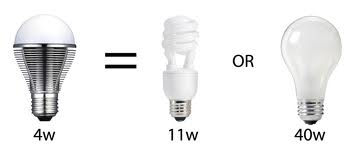 Before you invest in LED Bulbs you should investigate how much energy you consume, then you will know how much you are going to save.
How To Calculate Your Energy Consumption?
Do you know how much energy your home is consuming? You can go to the link below is a link for energy saving calculator. You can calculate what your current energy consumption to what you are thinking to replace them with.
CLICK HERE TO CALCULATE YOUR ENERGY SAVINGS  WITH ENERGY STAR BULBS
Why Peterson Electric, LLC Does Not Promote Or Install CFLs (Compact Fluorescent Lamp Bulbs):
1. The quality of light that the bulbs produces is very poor.
2. The delayed time it takes for them to warm up and turn on.
3. Danger of the mercury released out of cracks that aren't evident.
4. Danger of exposure to the mercury released when you broken.
5. The bulbs truly do not last as long as they say they will. The cost of the bulb is not worth it due to it burning out to fast.
These are only a few reasons why we do not promote CFLs, so we prefer LED bulbs. Yes, they cost more, but there price has significantly  dropped down in 2012. They are going to become more cost effective. We have 2 LED bulbs in our outdoor lighting for the past 2 years. Theses LED bulbs are very high quality. You can tell by their brightness and how well they are lasting. You get what you pay for. Below are some tips on the criteria you want when buying your  LED bulbs.
Peterson Electric, LLC LED Bulbs Criteria:
The package has to say total burn hours, this  is saying how long they last?
Need to be U.L . listed.
Do they provide a material warranty?
Are they L.M. 79 and 80 listed? (This is a 3rd party testing, besides your U.L. listing)
LED bulbs have to have government tested quality check rating, called duration.
Note: If the packaging does not have any of this listed and they basically say that the CFL or incandescent or halogen will not have replace 3 times more than the LED, CAUTION. Those bulbs are only rated for 2, 000 to 5,000 burn hours. A quality well priced will burn 30,000 to 50, 000 burn hours.
Keep in mind, LED is not affected by temperature or a constant flicking of a switch or a photo-eye every day.  Suggestion would be to get a whole house surge protector to protect all lighting circuits at once.  The bulbs we sell have a 3 to 5 years parts warranty and a 1 year performance labor warranty limited to us requiring the you to have the whole house surge protector installed.
The best way is to call us, as electrician studying this in the electrical field. We are knowledgeable on LED lighting and we have a connection to provide you  very high and superior LED bulb. We can serves you whether you are in Denver, surrounding cities like Longmont, Loveland, Fort Collins…